Upcoming changes and features
Current Content Patch: 2.5: Desolate Tomb
Last Server Patch: August 31st
Upcoming Livestream: twitch on Thursdays
Upcoming Maintenance: 11:00 am September 7, 2016 UTC
General

(NEW) An issue where mail cannot be sent to characters outside of the account.
A fix is being investigated and will be released as soon as its complete.
(NEW) Untamed Otter Pet is incorrectly listed in the Desolate Tomb dungeon tooltip. The Otter pet will make his grand appearance at a later date.
(NEW) Untamed Griffin Pet cannot be listed on the Marketplace.
(NEW) Legendary Gem Hammers were changed to a Sealed version that needs to be unsealed to be used but the name was not updated. Note: Unsealing them makes them untradeable.
(NEW) There are two Assassin skills named Hook Kick.
(NEW) Jin Soul Fighters and Male Lyn Warlocks are missing facial animations.
(FIXED 8/24) Texture issues with Ethereal Illusion Dagger and Ethereal Illusion Razor.
Costumes

(NEW) Summer Splash (formerly Summer Time) cannot be mailed with stamps.
Localization

(NEW) The World Map displays Desolate Tomb as Tomb of the Exiles.
(NEW) Voiceover in Warlock character creation menu is using outdated audio.
Skill Descriptions Overhaul is in progress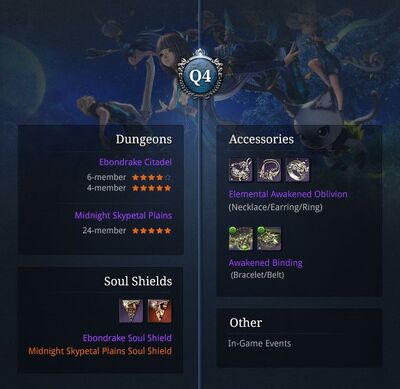 Balance/skill changes
Reduction of bots, cheaters, and spammers
Daily
Weekly
Wednesdays: scheduled maintenance (exact time and duration will vary)