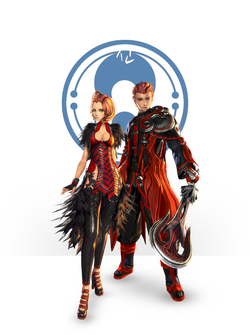 The word "Jin" means "Unyielding Effort" in the ancient language of the eastern continent. It is this characteristic that still defines the Jin people, who make up most of the world's most celebrated people.
Jin warriors may look fairly ordinary, and are certainly smaller than their Gon counterparts, but beneath a somewhat plain exterior lays incredible strength and tenacity, typical of the heirs of the Black Tortoise. Their versatility and never-say-die attitude gives Jin warriors a reputation that few would risk testing in the battlefield.
Jin people are often friendly and considerate with a strong notion of right and wrong. Their warriors are often found traveling the continents, helping the needy by working selflessly wherever they were needed.
As with all races, there is no stat benefit or perk to choosing Jin.
Available Classes
[
]
The Jin can choose from these 5 classes:
Trivia
[
]
In early Korean beta tests, Force Master was available as a class to Jins. This was later removed for the official release, and Jin cannot be FMs in any version of Blade & Soul currently available.
Media
[
]
Screenshots
[
]