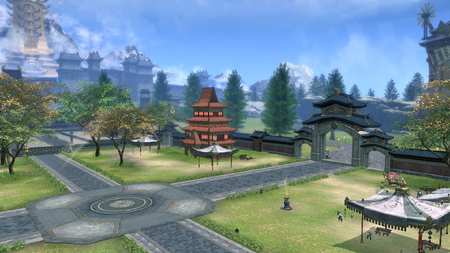 The Square is unique for it's own daily on-going event, called the Golden Harvest Village Raid.
You are able to take part 3 times a day in this daily event.
Location
[
]
The Unique Grand Harvest Square is the main town in the Skypetal Plains, which is located in the Silverfrost Mountains.
This place is also directly accessible by Windstride.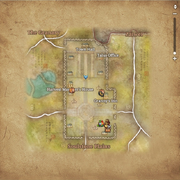 Inhabitants
[
]
Personalities
[
]
Defense Captain Hakjo
Grand Harvest Guard Instructor
Talus Dominion Village Defender
Talus Army W. Gate Defender
Talus Army S. Gate Defender
Talus Army E. Gate Defender
Talus Army Corrupted Talus Grunt lvl 50
Talus Army Corruplted Underling lvl 50
Villager lvl 46
Drunken Harvest Villager lvl 50 - 45
Granny's Inn Owner lvl 46
Village Girl Daljen
Grand Harvest Villager Doajo lvl 45
Grand Harvest Villager lvl 50 - 45 - 47
Grand Harvest Peasant lvl 50
Village Child lvl 47
Ebondrake Cultist lvl 47
Servant
Pot Dog Adventurer Grramis
Sochon Clan Sochon Gamyung lvl 47
Zaiwei Vendor lvl 45
Jum Soi Geban lvl 46
Functionaries
[
]
Dragon Trader Chungdam lvl 45
Weapon Merchant Manyong lvl 45
General Merchant Oh Gumhui lvl 45
Coin Exchange Merchant Chayong lvl 50
Quests
[
]
Gallery
[
]