Dragon Express is an in-game item shop that players can access through inventory. It sells various rare items for different currencies. Dragon Express also has special tab for players with Premium membership that sells various goods for discounted prices.
The button to access Dragon Express can be found at the bottom of the Inventory (
) window.
Event Currencies
[
]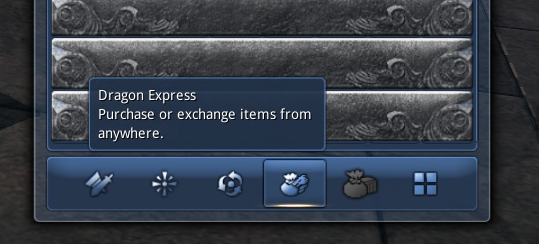 Currencies from in-game events can be spent at the Dragon Express. New events typically add a full tab of items, replacing the previous event's tab(s).
Shop
[
]
Item
Price
10

Dragonstone

10

Hongmoon Energy - Stage 1

5

Hongmoon Pet Aura - Stage 1

5

Legendary Element

20

Legendary Jewel

20

Legendary Element

10
5

Legendary Jewel

10
5

Legendary Element

10
10 5

Legendary Jewel

10
10 5

Dragon Fist Emblem

5

Flying Kick Emblem

5

Lucky Revitalizer

30

Master Field Repair Tool

30

Light Stone

5

Dark Stone

5

Training Uniform Design

1

Martial Arts Belt Design

2

Vagabond Belt Design

2

Novelty Glasses Design

2

Unkempt Hair Wig Design

2

Strategist's Headgear Design

3

Hongmoon Brilliant Viridian Key

1

Hongmoon Brilliant Cinderlands Key

3

Hongmoon Brilliant Moonwater Key

5

Artisanal Critical Soul Shield Primer

1

Artisanal Accuracy Soul Shield Primer

1

Artisanal Block Soul Shield Primer

1

Artisanal Evasion Soul Shield Primer

1

Artisanal Piercing Soul Shield Primer

1

Artisanal Defense Soul Shield Primer

1

Artisanal Reflex Soul Shield Primer

1

Masterwork Critical Soul Shield Primer

1

Masterwork Accuracy Soul Shield Primer

1

Masterwork Block Soul Shield Primer

1

Masterwork Evasion Soul Shield Primer

1

Masterwork Piercing Soul Shield Primer

1

Masterwork Defense Soul Shield Primer

1

Masterwork Reflex Soul Shield Primer

1

Soul Warden Critical Soul Shield Primer

5

Soul Warden Accuracy Soul Shield Primer

5

Soul Warden Block Soul Shield Primer

5

Soul Warden Evasion Soul Shield Primer

5

Soul Warden Piercing Soul Shield Primer

5

Soul Warden Defense Soul Shield Primer

5

Soul Warden Reflex Soul Shield Primer

5
Item
Price

Vintage Pet Pouch

65

Tribute Soul Badge Chest

125

Devotion Soul Badge Chest

125

Primal Force Soul Badge Chest

125

Blue Moon Soul Badge Chest

125

Holy Fire Soul Badge Chest

125

Magnum Soul Badge Chest

125

Courage Soul Badge Chest

125

Alluvion Soul Badge Chest

125

Glory Soul Badge Chest

125

Sagewood Soul Badge Chest

125

Raven Feather

3

Raven King's Soul

10

Hive Queen's Wings

10

Hive Queen's Heart

30

Blackstone Fragment

3

Hongmoon Hexagonal Diamond

8

Hongmoon Hexagonal Diamond

8

Hongmoon Hexagonal Ruby

8

Hongmoon Hexagonal Amethyst

8

Hongmoon Hexagonal Aquamarine

8

Hongmoon Hexagonal Sapphire

8

Hongmoon Hexagonal Peridot

8

Hongmoon Hexagonal Citrine

8

Hongmoon Hexagonal Amber

8

Hongmoon Hexagonal Emerald

8

Square Obsidian

10

Eminence XP Charm

5

Special Hongmoon XP Charm

50

Excellent Hongmoon XP Charm

5

Hongmoon Brilliant Key

20

Arena Reward Key

4

Battleground Reward Key

5
Item
Price

Wild Boar

20

Wild Boar Hat

10

Fleeting Legacy Soul - Stage 1

5

Blossom Nebula Stone

1
15

Blue Divine Grace Stone

40

Purple Divine Grace Stone

40

Yellow Divine Grace Stone

40

Red Divine Grace Stone

40

Awakened Hongmoon Energy

1

Awakened Ascending Soul

1

Tribute Soul Badge Chest

15 30

Devotion Soul Badge Chest

15 30

Primal Force Soul Badge Chest

15 30

Blue Moon Soul Badge Chest

15 30

Holy Fire Soul Badge Chest

15 30

Magnum Soul Badge Chest

15 30

Courage Soul Badge Chest

15 30

Alluvion Soul Badge Chest

15 30

Glory Soul Badge Chest

15 30

Sagewood Soul Badge Chest

15 30

Ascendant Weapon Chest - Stage 3

5
1 1

Sacred Vial

30

Pet Pack

12

Grand Celestial Wings

10

Hive Queen's Heart

10

Hive Queen's Wings

3

Bloodstone

8

Raven King's Soul

3

Raven Feather

1

Silver Scale

25

Blackstone

8

Divine Grace Stone

20

Legendary Element

5

Legendary Jewel

5

Hongmoon Heptagonal Gem Ticket

8

Special Hongmoon XP Charm

17

Legendary Gem Hammer

5

Fortune Potion

1

"Fighting Spirit" Skybreak Ring Chest - Type 1

1

"Fighting Spirit" Skybreak Ring Chest - Type 2

1

"Fighting Spirit" Skybreak Earring Chest - Type 1

1

"Fighting Spirit" Skybreak Earring Chest - Type 2

1

"Fighting Spirit" Darkstorm Necklace Chest - Type 1

1

"Fighting Spirit" Darkstorm Necklace Chest - Type 2

1

Unrefined "Fighting Spirit" Celestial Emperor Ring Chest - Type 1

1

Unrefined "Fighting Spirit" Celestial Emperor Ring Chest - Type 2

1

Unrefined "Fighting Spirit" Celestial Emperor Earring Chest - Type 1

1

Unrefined "Fighting Spirit" Celestial Emperor Earring Chest - Type 2

1

Raven King's Soul

1

Hive Queen's Heart

1

Grand Celestial Steel

1
Item
Price

Lycan's Fire Wings

65

Fleeting Flame Weapon Chest (1-day)

5
7

Onyx Scale

18

Grand Celestial Steel

35

Divine Orb Fragment

5

Grand Celestial Soul Shield - Chest 1

25

Grand Celestial Soul Shield - Chest 2

30

Grand Celestial Soul Shield - Chest 3

35

Hongmoon Octagonal Ruby

45

Hongmoon Octagonal Citrine

45

Hongmoon Octagonal Emerald

45

Hongmoon Octagonal Peridot

45

Hongmoon Octagonal Sapphire

45

Hongmoon Octagonal Amethyst

45

Alpha Agent

20

Sacred Vial

30 ]

Pet Pack

12 ]

Grand Celestial Wings

10 ]

Hive Queen's Heart

10 ]

Hive Queen's Wings

3 ]

Bloodstone

8 ]

Silver Scale

10 ]

Blackstone

3 ]

Divine Grace Stone

30 ]

Legendary Element

5 ]

Legendary Jewel

5 ]

Hongmoon Heptagonal Gem Ticket

8 ]

Special Hongmoon XP Charm

17 ]

Legendary Gem Hammer

5 ]

Fortune Potion

1 ]